Recipe: Sweet and Spicy Pork Wraps
These sweet & spicy pork wraps are nutritious, healthy, tase great and are easy to make.
Ideal for a light summer dinner and any leftovers will make perfect lunches.
Keep reading for the recipe and nutritional information.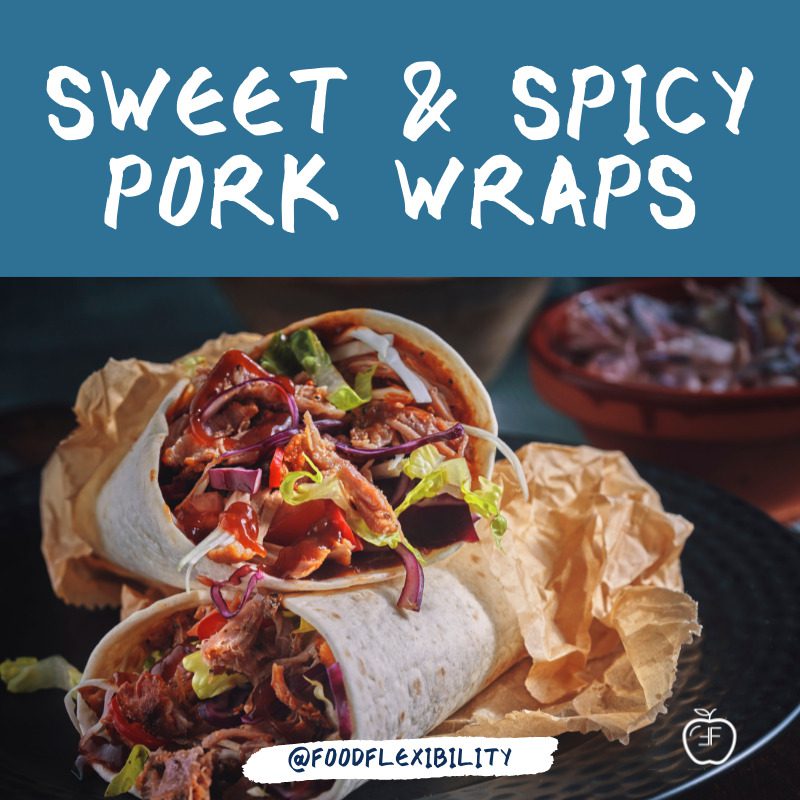 Pork is a really affordable cut of meat and if you buy it from your local butcher it will be way tastier than the meat you get in the supermarket with a lower carbon footprint.
Boosting your protein intake and eating more vegetables are great ways to keep yourself feeling fuller for linger which is by far the simplest weight loss 'hack' I can give to you.
If you're looking to eat more because you want to gain muscle or fuel a lot of activity then you can  and an extra wrap or two to increase the carbohydrates to provide more instant energy or add some grated cheese to boost the fat content. Both will increase the overall calories.
Remember, when we eat more to boost performance, protein targets can actually be slightly lower than for fat loss.
Ingredients
600g lean pork loin, cubed
4 flour tortilla wraps
small bag of lettuce leaves
1 red pepper, deseeded & in strips
½ red onion, diced
Barbecue Marinade
2 tbsp brown sugar
2 tbsp tomato ketchup
2 tbsp dark soy sauce
1 tsp Chinese five spice powder
2 tbsp orange juice
Directions
Serves 4
High Protein | Low Fat | Dairy Free | Egg Free 
Mix together all the marinade ingredients in a non-metallic bowl until smooth. Add the pork and coat well. Cover and leave to marinate at room temperature for 15 minutes.
Heat a non-stick frying pan until hot, add the pork and cook for 6-8 minutes, turning frequently, until cooked through.
Divide between 4 flour tortillas, add some salad ingredients, roll up and serve.
Calories and Macronutrients*
Protein: 40g
Carbohydrate: 45g
Fat: 10g
Calories: 450KCAL
*approximate values
It's over to you
How simple is that?
An easy, nutritious and fuss free recipe to help you fuel your inner athlete and eat to perform.
Give it a try and let me know what you think in the comments.
Better still, share it with a friend who you know will love it!
Share This Blog, Choose Your Platform!