Recipe: Chickpea Tagine
These chickpea tagine is nutritious, high in fibre, healthy and easy to make.
Most importantly it's super tasty!
Ideal at any time of the year as a main course or side dish and any leftovers will make perfect lunches.
Keep reading for the recipe and nutritional information.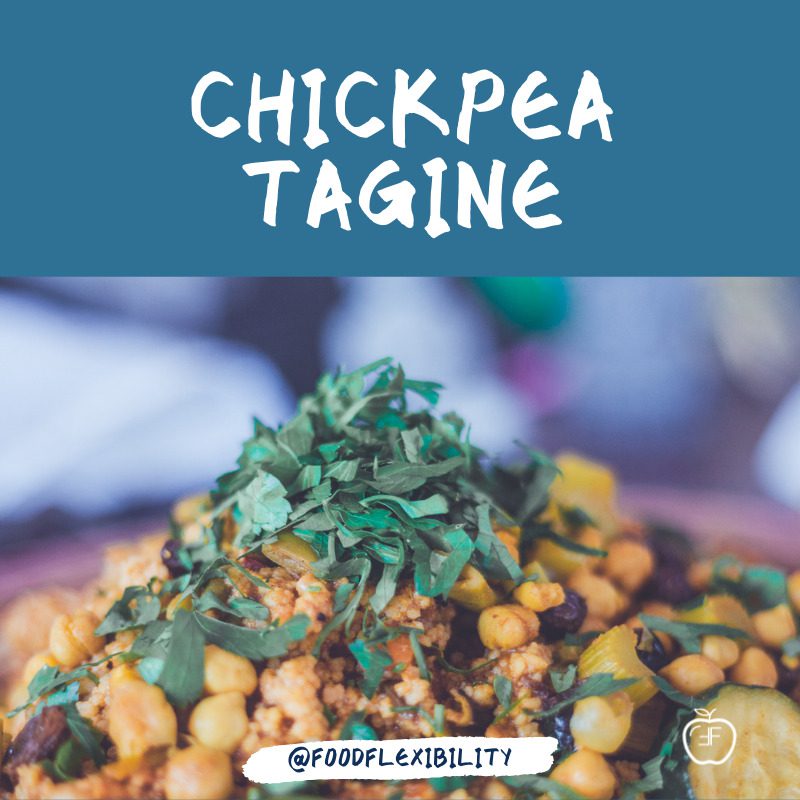 Tinned chickpeas are a really convenient ingredient to keep in your cupboard.
Boosting your protein intake and fibre intake are great ways to keep yourself feeling fuller for linger which is by far the simplest weight loss 'hack' I can give to you.
If you're looking to eat more because you want to gain muscle or fuel a lot of activity then remember that chickpeas are really filling so you may wish to add a pitta bread to increase the carbohydrates to provide more instant energy.
If you're weight training, play sport or involved in endurance activities like cycling or running consider supplementing with a vegan protein shake to boost the protein content.
For those of you with a high energy demand because you train a lot then consider adding some nuts, oil or avocado to further boost the calories. Fats are essential for overall heath and vitality and often plant based diets can be a bit low in this key nutrient.
It probably goes without saying that adding extra carbs, fats or protein sources like those suggested above will increase the calories shown below.
Ingredients
400g can chickpeas, drained & rinsed
1 tbsp olive oil
1 tbsp root ginger, peeled & finely chopped
2 carrots, peeled & sliced
2 garlic cloves, crushed
1 medium onion, finely diced
2 tsp ras el hanout
200ml vegetable stock
200g baby spinach
2 tbsp fresh coriander chopped, plus extra
to garnish
salt & pepper to season
Directions
Serves 4
Vegan | Vegetarian | Low Fat | Dairy Free | Egg Free | High Fibre
Heat the oil in a saucepan and fry the garlic and ginger for a couple of minutes. Add the onion and stir-fry for a further 2 minutes.
Stir in the spice, mix well and add the carrots, chickpeas and stock to the pan.
When it starts to boil, reduce the heat and simmer for 15 minutes.
Add the spinach and most of the coriander and cook until the spinach has wilted.
Season to own taste and garnish with the remaining coriander. Serve in bowls.
Calories and Macronutrients*
Protein: 10g
Carbohydrate: 30g
Fat: 10g
Calories: 250KCAL
*approximate values
It's over to you
How simple is that?
An easy, nutritious and fuss free recipe to help you fuel your inner athlete and eat to perform.
Give it a try and let me know what you think in the comments.
Better still, share it with a friend who you know will love it!
Share This Blog, Choose Your Platform!